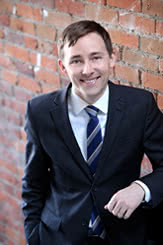 Geoff is a graduate of the University of British Columbia where he obtained a B.A. in History in 2007 and a law degree in 2011. Geoff completed his final term of law school at the University of New South Wales in Sydney, Australia. After law school, Geoff clerked at the British Columbia Supreme Court for Justices N. Smith, Bruce, Griffin, Silverman, and Dickson. He articled at a leading downtown Vancouver law firm and was called to the bar in March 2013. Geoff practiced in Vancouver at the same firm where he articled until making the move across the water to Victoria.
He is a member of the Law Society of British Columbia, the Canadian Bar Association, the Victoria Bar Association, the Royal Victoria Yacht Club and the Cadboro Bay Sailing Association. Geoff also sits on the board of directors of the Our Place Society. In his spare time, Geoff enjoys dinghy and keelboat racing, cross-country skiing, and traveling.
Practice info:
Geoff is a lawyer and notary public who practices primarily in the following areas of law:
Geoff provides services to clients with respect to the formation, organization, development, operation and transformation of their businesses, including purchase and sale transactions, commercial contract review and preparation, commercial lease review and preparation, employee issues, mergers and acquisitions, succession planning and general corporate matters. Geoff also assists individuals and businesses with residential and commercial real estate transactions. Geoff also provides tailored services to both creditors and debtors.
If you would like a free consultation with Geoff Huggett, email him at gah@hom-law.com.