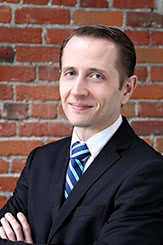 Dana Quantz has a broad litigation practice with a focus on personal injury, employment and labour, and corporate and commercial litigation. Dana regularly appears in the British Columbia trial courts, the British Columbia Human Rights Tribunal, and the Workers' Compensation Appeal Tribunal. He also appears on behalf of clients at the British Columbia Labour Relations Board, at judicial review in the British Columbia Supreme Court, and at appeal in the British Columbia Court of Appeal.
Dana is presently sitting on the Board of the Vancouver Island Human Rights Coalition and the Civil Litigation Vancouver Island Section of the Canadian Bar Association. He also acts as a lawyer supervisor to students doing work on behalf of Access Pro Bono and is on the Editorial Board of the Verdict, magazine for the Trial Lawyers Association of British Columbia.
In his spare time, Dana enjoys martial arts, long-distance running with his spouse, enjoying the hidden beaches on Vancouver Island, and debating philosophy to himself.
Personal Injury
Dana has acted primarily for plaintiffs making claims against insurers and defendants seeking compensation for injuries they have sustained including chronic pain, traumatic brain injury, and significant psychological injury. Many of these claims involve:
Motorcycle, Bicycle, and Pedestrian Collisions
Occupiers' Liability
Medical Malpractice and Professional Negligence Claims
Long-Term Disability and Life Insurance
WorkSafeBC and Workers Compensation
Section 257 of the Workers Compensation Act
Judicial Review and Administrative Law
Sexual Assault Claims
Employment and Labour Litigation
Dana has acted for plaintiffs and defendants involved in employment and labour disputes, including claims for damages in wrongful dismissal, sexual harassment in the workplace, discrimination due to disability, and negotiating complex severance packages. Many of these claims involve:
Wrongful Dismissal
Constructive Dismissal
Sexual Harassment in the Workplace
Discrimination under Human Rights Legislation
Judicial Review and Administrative Law
Defamation and Loss of Reputation
Labour Arbitration
Breach of Duty of Fair Representation
Corporate and Commercial Litigation
Dana has acted for corporations, directors, and shareholders in disputes within the corporation and on behalf of the corporation. Dana has experience working with First Nation companies and private corporations working in many different sectors, including construction, entertainment, real-estate, and technology.
Director Disputes
Shareholder Disputes
Oppression Claims
Sale of Goods Claims
Builders' Liens
Property Disputes
Breach of Contract and Collections
Family Law
Dana has assisted families in the midst of the breakdown of their relationships assess their financial, corporate, and proprietary obligations. Dana works with clients to achieve a fair resolution for everyone attempting to resolve the following issues:
Child Support
Spousal Support
Property Division
Unjust enrichment and Constructive Trust Claims
Marriage and Separation Agreements
Divorce
Background Information
Education
Juris Doctor (Law Degree), University of Victoria, 2010
Bachelor of Arts, University of Calgary, 2007
Memberships
Law Society of British Columbia, 2012
Trial Lawyers Association of British Columbia, 2012
Canadian Bar Association, 2012
Victoria Bar Association, 2012
Full C.V. available upon request
Please contact Dana at dgq@hom-law.com or (250) 360-2500.